VIEW PAINTINGS |TIRE ART|ABOUT KODELL ART

|

PRODUCTS & PRICING

|

COMMISSIONS

|

GALLERIES & SHOWS

|

NEWS



(DOG & CAT NOTE CARDS - CLICK HERE)
the art of kay odell is kodell art.
I was born the daughter of artist Ann Lanier from Augusta, Georgia. My mother always had paint under her fingernails, received artist friends into our home carrying brushes, pallets, paper, and water to spread all over our dining room table, and was always dragging me to another gallery, opening, or frame store. So you could say art is in my blood. Now... naturally... I find myself with paint under my nails, enjoying my art pal when we paint together, and lately looking for unusual poses of dogs!

I currently dabble in acrylic, watercolor, charcoal and any combination thereof, usually on large canvases. I enjoy working on big canvases. You can commission me for a huge canvas and I'd be in hog heaven! I love drawing and painting florals, landscapes, animals, and old barns. I think I enjoy painting dogs the most. That, and flowers. I love to get lost in a painting, and my current interest in dogs has given me a new "art" to get lost in. I'm always looking for different ways to express myself and to insert humor into my paintings. My love of art may never put me into the big artist arena, but that's ok. It's the art itself that keeps me going. Whether it's arranging antiques, dividing perennials in the garden, or painting a wall, I always try to look for the different, artsy, way to do things.
That's what drives my talent and allows me to really have fun in a big dog world.

Kodell Art, LLC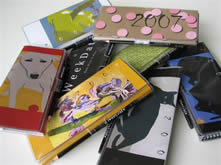 Kodell Art, LLC, located in Greenville, South Carolina, is the company behind kay odell's art and the WeekDate calendar. Kodell Art was formed in the spring of 2004 in order to provide a business structure for the sales of non-commissioned and commissioned paintings, notecards, and other products featuring the art of kay odell.
The WeekDate calendar was invented and became patent pending in the fall of 2005 by kay. To allow for many of the WeekDate covers to feature kay's art, it was decided that the WeekDate products would be offered under the business enterprise of Kodell Art. Since that time, Kodell Art has been working to provide additional WeekDate products.

Under the note cards purchasing page, you will find four versions of notecards under the name of HOGO Art. These are designs that were designed by kay's daughters. They are quite whimsical and ready for any occassion.

Thank you for being interested in Kodell Art.
To inquire about a painting, please email k@weekdate.com or call 864-243-9199.



HOME
|
VIEW PAINTINGS
||
TIRE ART
|
ABOUT KODELL ART
|
PRODUCTS & PRICING
|
COMMISSIONS
|
GALLERIES & SHOWS
|
NEWS
|
WWW.WEEKDATE.COM
Copyright 2005-2007© Kodell Art, LLC. All rights reserved.